Cost: $99 per month
Language: English
Most popular topics: STM is the most all rounded forum in the affiliate marketing industry.
STM Pros
STM is not only a forum:
It's a way for affiliates to communicate with other affiliates.
It's probably the most famous forum around since it goes beyond a simple information exchange:
These guys now have their own training programs and conferences (Affiliate World Conferences.)
I'm sure they'll be releasing some new things pretty soon.
They never stop evolving.
This is where you can find the cream of the crop in the affiliate marketing industry.
This is where super affiliates come to share their knowledge.
These are guys who started exploring this forum years ago and who now share their own tips for users to succeed in affiliate marketing.
Actually, we've interviewed one of them, check the full interview here.
You'll often find news from the world of digital, alterations to company's regulations and guidelines (such as Facebook's guidelines, for instance.)
You can also understand how such changes can affect your work in affiliate marketing.
It's really rare for people to ask a question and be left without a proper answer.
The moderators have diverse areas of expertise and you'll notice that each specific niche has its own expert.
This means this forum will always allow you to find out about cool new affiliate marketing news and tips.
STM Cons
This forum has been around for a while.
It's got an enormous database that's been built throughout the years.
It's helped many affiliates get to the top.
So what's the problem?
The fact that newcomers are getting lazy.
They fail to search for information and also fail to ask concrete questions.
This is why you often end up reading infinite follow alongs that are all about the same thing:
The same used-up tools, the same washed-out strategy, the same tired GEOs, and beat up verticals.
How can you solve this problem?
Easy!
Go ahead and get specific!
Ask specific questions and don't do what everyone else is doing.
Don't copy paste campaigns:
Learn from the experience of others!
Notice their mistakes and gather their useful tips.
Try to do your own thing, trail your own path, and ask the forum for opinions from time to time.
This is the best way to grow on STM.
Cost: $20 per month
Language: English
Most popular topics: Push Notifications, PPV (Pops and redirects), Campaign Optimization, Landing pages
affLIFT Pros
Great price: priced at $20/month, affLIFT makes for relatively easy access compared to other popular forums out there.
Regular "Pro Affiliates": you can see the likes of Servando Silva here (check out his interview on affLIFT), and we also heard a positive endorsement from Emanuel Cinca (StackThatMoney and WHAT THE AFF), who described the forum as having one of the friendliest communities.
Admins: affLIFT is created by the director of PeerFly, so you can see him sharing knowledge and helping members with campaign optimization tips on the forum.
Support questions: many affiliates use the forum as a short cut for quick support with the teams of various affiliate tools registered on affLIFT.
affLIFT Cons
Member count: affLIFT is the newest industry forum, which means the user base is not yet as large as with the older affiliate marketing forums.
Newbie topics: you might see questions from newbies pop-up often. However, the forum's admins are helping these affiliates get moving down the right path as fast as possible, so we expect the situation to improve soon.
Topics: affLIFT is narrowly focused on push notifications, PPV, traffic optimization and landing pages. Not too much talk about other formats so far.
Cost: Free
Language: English
Most popular topics: "Hey there! I'm a newbie and I need help!"
AffiliateFix Pros
Ready for this AffiliateFix review?
Let's go!
The first thing you should know about this member of my affiliate marketing forums list?
This is probably the most active forum out there.
There, you can find the Business section.
It allows you to easily search for potential partners and clients.
All the information is available for free.
After performing thorough research, you'll get useful advice from admins and moderators.
Most importantly, you'll see T.J. Tutor showing up on almost every post.
That's awesome!
It means this community is all about sharing info and these guys aren't the sort of losers who are afraid of competition.
AffiliateFix Cons
These guys have been improving a lot lately!
You get to see new features all the time!
If there happens to be something wrong, these guys go all in and fix it super fast!
The only thing I can mention that could be regarded as negative is the fact that the forum is huge.
Indeed, you need to dig deep to find the answer to your question!
Cost: Free
Language: English
Most popular topics: it covers not only affiliate marketing but also online business strategies and digital marketing in general
Warrior Forum Pros
Warrior Forum affiliate marketing is awesome!
The forum has a lot of information on various topics.
Posts are mostly direct questions when it comes to this affiliate marketing forum:
Don't expect too many follow alongs and case studies.
War Room and WAMA (Warrior Ask Me Anything) are study tool boxes which allow affiliates to learn more through online sessions of industry experts, providing access to digital marketing sources.
The majority of the forum's traffic is coming from the US.
Got a business in the states?
Time to become an avid fan of WarriorForum.
Warrior Forum Cons
Several years ago there was a buzz created about the many disadvantages of this forum.
It really is up to you to decide whether or not this forum is the perfect fit.
My opinion?
The forum is growing and continuously improving.
It always manages to stand apart from the rest by consistently providing super useful content.
Cost: Free
Language: English
Most popular topics: SEO
WickedFire Pros
WickedFire is one of the most well-known and stable affiliate marketing forums in the industry.
Here, you can talk with all the market's players, including newbie affiliates, professionals and companies' representatives.
The forum had its ups and downs but it's always managed to survive.
It's very well organized.
Despite the main focus on SEO and webmasters, this forum provides lots of information on diverse topics.
WickedFire Cons
WickedFire is probably the least active forum around.
In the past, the forum was known as a strong community.
However, due to the increasingly powerful competition, WickedFire is now starting to lose some of those once-loyal active followers.
Even so, I believe that WickedFire is still a source of knowledge for those that know how to do their research.
Cost: Free
Language: Russian
Most popular topics: diverse
CPAClub Pros
Now here's one of the best forums of CPA world!
CPAClub is a forum that positions itself as a closed VIP community of Russian-speaking super affiliates.
This means it's hyper-difficult to get into the club.
The members will evaluate your profile, your experience, your income, and the input you can offer the community.
Why should you enter?
Because members get amazing perks!
They get discounts on popular online services, special deals, exclusive offers and – most importantly – valuable professional advice.
CPAClub Cons
Wanna be part of one of the top forums for CPA?
Pay attention!
In order to be part of this forum club, you don't only need to get the right to enter:
You must also actively participate in the club's life.
Otherwise, your account will be deactivated.
Meaning?
You'll have to go through the application process all over again.
Info:
CPA marketing forums can be tough but it's really worth the hassle!
Cost: A one-time subscription of $500
Language: Russian
Most popular topics: diverse types of affiliate marketing in the non-Russian market
Defo Pros
The Russian world of affiliate marketing is much more advanced and diverse than you may think.
Affiliates even go as far as to differentiate "Russian affiliate marketing" from "foreign affiliate marketing".
What does it mean?
In "Russian affiliate marketing" you'll target Russian-speaking countries.
That's it.
Why?
Because the methods used in Russian traffic monetization are very specific and work mostly for Russian speakers.
If you apply the same strategy elsewhere, it may not work out.
Defo positions itself as a forum about foreign affiliate marketing.
This feels like a decent community.
It reminds me of StackThatMoney:
Users know each other, they have their own meetings, masterminds, and they're generally quite friendly, following the goal of becoming successful together.
Defo Cons
The forum is based on a blog system.
This means users create their own blog, introduce themselves to the affiliate community, and start their affiliate marketing journey.
This is both good and bad.
It's very interesting to read real stories of real people.
Learn More: Mobidea's Real Testimonials From REAL Life Affiliates
It's awesome that you can understand what they struggle with, trying to come up with helpful solutions.
On the other hand, if you need to find something fast, you may spend a lot of time reading through a bunch of information.
Since there's no filter, this means it's gonna take a lot more time.
Cost: Free
Language: English
Most popular topics: Black Hat, Adult, SEO, ways to make money with no (or low) investments
BlackHatWorld Pros
Here, you can find a lot of information about all the kinds of Black Hat ways to earn money for several verticals.
These guys go through a lot of affiliate topics and affiliate themes.
You can also get pretty good advice on all things SEO.
Here, marketers talk about different stuff.
In fact, affiliate networks don't participate that much.
This means commercial posts are a rare sight.
These guys really think outside the box.
The forum is definitely worth checking out, regardless of whether or not you wanna actually be a regular member.
BlackHatWorld Cons
When it comes to affiliate discussion, it's mostly all about Black Hat.
Shady stuff!
As you know, Black Hat won't make your affiliate marketing career live for a long time.
If you're lucky enough, these techniques might work.
But reality will push you to change and adapt.
Indeed, you'll have to start becoming more and more transparent in your business practices.
There's a White Hat section too, though.
This is it!
This is where you can find some valuable information.
Another little something which bothers me?
The charcoal black background.
It's so dark that it makes you feel tired easily.
I wouldn't read long texts there (which the forum almost doesn't have, anyway).
Cost: Free
Language: Spanish
Most popular topics: Facebook Ads, SEO, Blogging and Social Media
Forobeta Pros
This is probably the biggest gathering of Spanish-speaking affiliates and online marketers across the web.
The forum is incredibly active:
Questions are asked all the time, and there are always new topics brought up.
The platform itself is user-friendly.
You can easily find all the necessary information.
Forobeta Cons
It's not rare for spam messages to appear on threads and affiliate discussions.
Besides, the topics discussed are not diversified.
Why?
Because the Spanish-speaking community works mainly with Facebook Ads and Black Hat.
This means these guys aren't interested to learn about SEO tips, Native or E-Commerce.
Cost: Free
Language: French
Most popular topics: tracking platforms, webmaster tips, mobile affiliate marketing
HackerDeCroissance Pros
It's got a really clean and understandable interface.
It's a very good and complete forum, as you'll find threads about almost everything in the business.
You can really dive into any affiliate topic and go to a specific affiliate theme.
From very technical things for developers and webmasters to basic things to start such as "what kind of offers should I begin with?"
The owner of the forum is very knowledgeable.
He's been in the business for several years.
That means he allows you to learn from his great knowledge through super interesting webinars.
Is your business connected to a French-speaking country?
Want to be part of one of the affiliate programs communities that's really worth it?
Then this is the place to be!
Learn More: Understand Why Bellatig Mehdi Thinks Adult Dating is a Great Vertical for Newbies! [Video]
HackerDeCroissance Cons
Since the forum is relatively recent, you'll find tons of newbies.
Sometimes, it's obvious that the threads are too newbie-oriented.
It's very good if you're starting in the business.
Even so, if you happen to be looking for more, it gets dull after a while.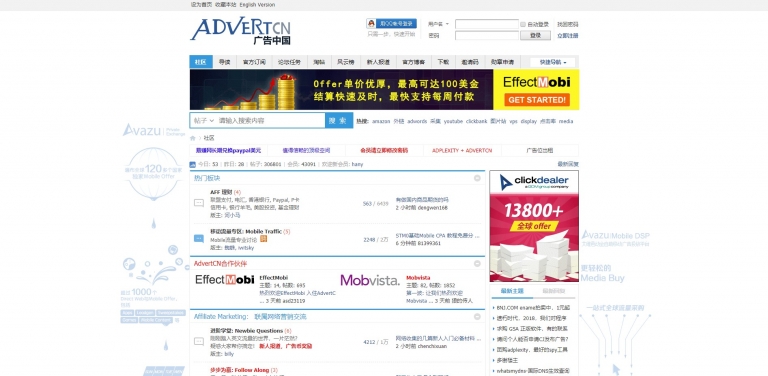 Cost: Free
Language: Chinese
Most popular topics: YouTube, Amazon, E-Commerce, drop shipping, mobile marketing
AdvertCN Pros
The interface is really user-friendly in this mobile affiliate marketing forum and this really is one of the best affiliate marketing forums.
Most probably, it'll remind you of AliExpress and other similar and super popular Chinese platforms.
The forum is actively used by Chinese affiliates.
These guys are constantly asking questions and sharing their own experience in digital marketing.
It's a good place for beginners to learn about affiliate marketing and get started (choose the right tools, vertical, decide upon a media buying strategy, etc.)
There are also experienced marketers sharing their knowledge, as well as affiliate networks which use the forum as a platform where they can promote their services.
It's the best place to communicate with Asian businesses and affiliates.
AdvertCN Cons
The info is written in Chinese!
And trust me:
Google Translate doesn't really manage to translate it properly.
When I referred to HackerdeCroissance and Forobeta I was giving you forums you could explore – even in the event that you don't happen to understand the languages.
Well…
AdvertCN is another game.
Here, you've really gotta be a Chinese speaker in order to understand something.
Besides, sometimes there's a lack of specific, deep-knowledge information.
This means you need to put your detective cap on and perform great research – just like on AffiliateFix.
Conclusion
Life is all about learning.
When you're an affiliate, it's also about exploring forums for affiliates.
It's important to get that precious information from trustworthy sources and top affiliate marketing forums.
Those that actually provide you with the information you didn't know and don't just "sell" you some dull basics.
A forum is almost like a wealthy affiliate online business community.
It's a place where you can get to know different people working in affiliate marketing, ask questions, share information, and collect several opinions from these communities for affiliates.
This allows you to see the whole picture of affiliate marketing as an industry.
It gives you more support, motivation, inspiration, and ideas to improve your work.
Make sure you're not missing any of these sweet opportunities!
Register now!
Affiliate marketing has its own community and its own family.
You can even find affiliate message boards.
Be part of it all!
Dive deep into the knowledge game.
Get to be a member of an affiliate marketing group.
And don't forget:
Make sure to check Mobidea Academy's articles on these wicked forums to improve your knowledge!