Here Are Some Legit Ways To Make Money Online For You.
Affiliate Marketing:
Affiliate marketing is the process of making money every time you promote someone else's products or services. If you make a sale for the company, you get paid. If you don't make a sale, you don't get paid.
Affiliate Marketing is my absolute favorite way of making money online passively.
I'm currently a member of Wealthy Affiliate hands down the best training teach you Affiliate Marketing.
The banner here will take you to Wealthy Affiliate and you can go see for yourself. A little disclaimer if you decide to join Wealthy Affiliate
I do get a commission. Which is another plus about WA. The community there is also Super:) I love it!
I wouldnt recommend something I don't believe in.
Affiliate Programs:

Drop Shipping:
In e-commerce, there's been a lot of talk about drop shipping.
If you are not familiar with drop shipping, it's a business model where you, as a store owner, don't need to buy products in advance. You just add a necessary product to your site and when someone purchases it, you buy it from supplier who ships this item directly to your customer.
So, when starting an online business, it lets you easily avoid the hassles of things like developing products, tracking inventory, setting up warehouse space, and maintaining a confusing shipping/receiving infrastructure.
Drop shipping is considered a low-risk business model making it great for new entrepreneurs.
Are you ready to start drop shipping business?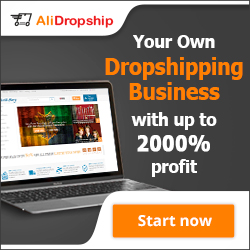 Print On Demand:
Print on demand is a process where you work with a supplier to customize white-label products (like baseball hats or tote bags) with your own designs to sell them on a per-order basis under your own brand.
That means you don't pay for the product until after you've actually sold it, so there's no need to buy in bulk or hold any inventory yourself.
Plus, with print on demand services everything after the sale, from printing to shipping, is handled by your supplier. Once you've set everything up, it takes only a few clicks to fulfill an order once you've made a sale.
Here is a list of companies that you can work with to do print on demand
Redbubble
Merchbyamazon
Design by humans
Zazzle
Teefury
Teespring
Society 6
Teepublic
Sunfrog
Domain Name Flipping:
Domain flipping is the process of purchasing a domain name with the intent of quickly selling it at a significantly higher cost. This is similar to house flipping, where a home is purchased and fixed up in order to sell for a quick profit.
Flippa
Bido
Dealasite
Websitebroker
Sedo
Naming Companies:
1) Naming Force  – With Naming Force, a client creates a contest and allows members to recommend names within 7 to 10 days. Once the submission period ends, Naming Force members have up to 3 days to vote for their favorite entries. The client reviews leading suggestions within 7 days and picks the winner. If the client fails to choose a name, the name with the most votes automatically gets picked and the one who recommended it gets the prize.
Participants earn higher ranking every time they submit more names per contest.
Participants with high rankings increase the number of submissions per contest. This is because some clients can set the number of times a participant can submit a name.
Average prize amount is $100, but it may also range from $50 to $500.
Prizes are set by the clients.
Prizes are sent via PayPal
Naming Force is only open to U.S. citizens.
2)  Squad Help  Founded by Chicago-based entrepreneur Darpan Munjal in 2011, Squad Help doesn't just help with naming brands or companies. They also help clients find logo design, taglines or slogans through the work of contest participants. Out of all crowdsourced contest sites, Squad Help has the largest online presence (from Facebook to Twitter). Participants can jump right in a day after registration. New members can join select contests and can enter up to five entries per contest.
Your entries are instantly checked for Trademark issues and domain (URL) availability. If the system accepts your entry, you'll see a green flag pop up. If not, a red flag will notify you and you can try again.
Some contests are invite-only and past winners (Tier A Category) are the only ones eligible to join
Some clients require participants to sign a Non-disclosure Agreement before being allowed to join the contest
Prizes range from $50 to $300 with an average of $100.
3) CrowdSpring –This platform was founded by Ross Kimbarovsky in 2008. Like Squad Help, Crowd Spring also offers various crowdsourced services, including email templates, design, and more. This is a favorite among creatives since they are allowed to communicate with clients and receive feedback from their submissions. Crowd Spring is also known to police projects properly, which reduces the chance of creatives to get scammed.
Creatives can register without a fee.
Enter as many contests as you wish.
There's no limit as to how many entries you can submit per contest.
As prize, winners are given 60% of the package fee a client chooses.
 Taking Surveys:
It's really easy. Simply take online surveys to answer questions about your opinion on a variety of topics. Earn rewards  when you complete surveys. Earn free gift cards for your time or use your rewards towards sweepstakes for even bigger prizes. Cash out with your PayPal account or Visa gift card.